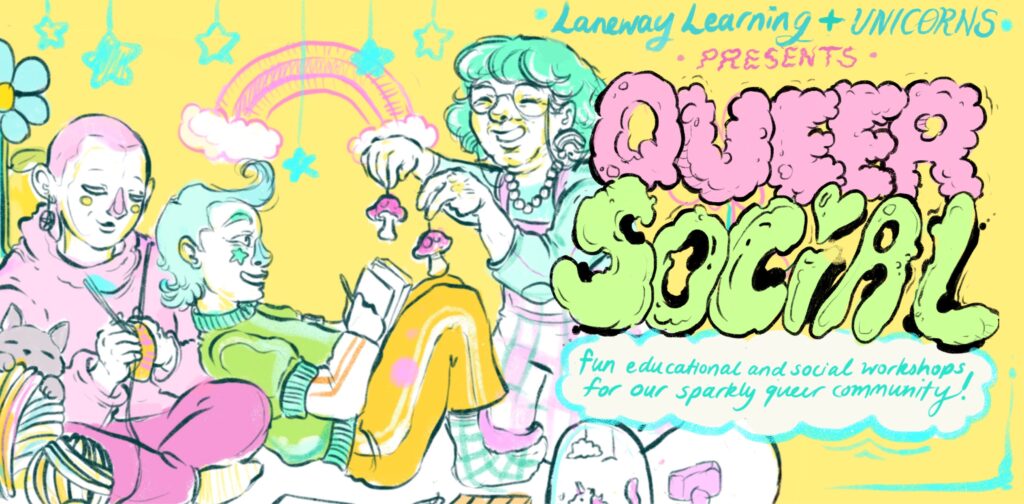 If you've felt like you were born with two left feet, or simply want to learn some basics and fundamentals of dance, here's your chance! This class is for people who don't quite feel comfortable diving into drop in dance classes, and to learn basic yet essential techniques.  This is for all of you who hide in the back and sway from side to side at the club, or for those wanting to get comfortable attending casual dance classes.
This Queer social is online via zoom.
Date/Time
Thursday, 14 October, 2021
6:00 pm – 7:30 pm
Queer Social:
Laneway Learning and Unicorns have teamed up to create QUEER SOCIAL – a queer workshop and social space for queers, by queers. Learning new things has so many benefits, from developing new skills to increasing mental wellbeing. And it's also just fun!
So come and join us for this cute new workshop series and be surrounded by other lovely queer people – you could also meet your new best friend or soul mate!
Event details
Cost: $5
This event is for: Any queer person that would like to learn some dance moves and meet people
Appropriate age/s: Predominantly For Adults
Further information: Event website
Book tickets: Click here
Sponsored by City of Melbourne.