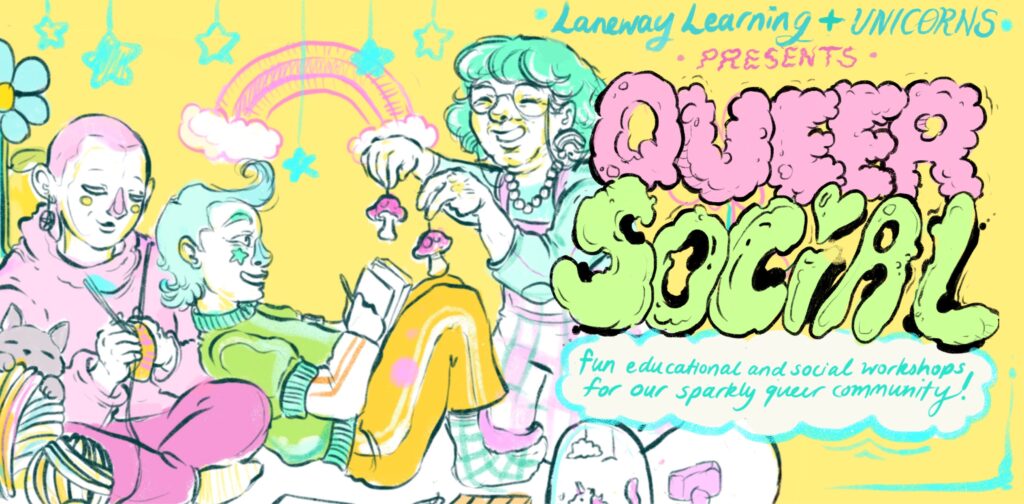 Have you ever just wanted to get out all of the bundled up anger you have toward your ex? Want to have a rant about an old flame but have already exhausted all your friend's emotional capacity?
Welcome to 'letters to your ex', we're going to be writing (AND NOT SENDING) some letters to our exes and discussing some useful tactics for moving through feelings after a break-up.'
This Queer social is online via zoom.
Date/Time
Thursday, 28 October, 2021
6:00 pm – 7:30 pm
Queer Social:
Laneway Learning and Unicorns have teamed up to create QUEER SOCIAL – a queer workshop and social space for queers, by queers. Learning new things has so many benefits, from developing new skills to increasing mental wellbeing. And it's also just fun!
So come and join us for this cute new workshop series and be surrounded by other lovely queer people – you could also meet your new best friend or soul mate!
Event details
Cost: $5
This event is for: Any queer person that would like to learn about creative writing and meet people
Appropriate age/s: Predominantly For Adults
Further information: Event website
Book tickets: Click here
Sponsored by City of Melbourne.