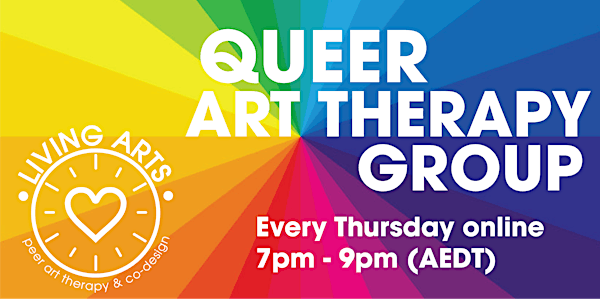 Queer Art Therapy groups are held online weekly each Thursday evening via zoom, beginning at 7pm and ending at 9pm (AEDT).
These sessions provide a welcoming and respectful space for people identifying within the LGBTIQA+ community to experience art therapy with their peers that is queer-led and centred.
Sessions are conducted using a reflexive art therapy model, trauma and diversity informed peer framework and actively support and celebrate neurodiversity, disability, and different connection methods. Both verbal and non-verbal participation is welcome and respected. No art "skill" or "experience" is required.
These sessions are facilitated by Mahlie – a queer First Nations cisgendered woman who holds a Masters degree in Art Therapy, Advanced Diploma in Mental Health/Drug & Alcohol counselling and is a qualified IPS Peer Mentor.
Registration essential – group is capped at 10 participants per session.

To find out more or to register visit HERE.